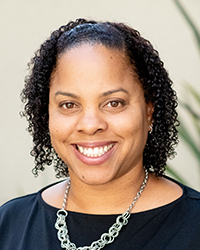 Kiyana Kiel
Assistant Dean of Academic Achievement
Adjunct Professor

Biography
Dean Kiel joined California Western School of Law (CWSL) in June 2018 and oversees all aspects of academic support and bar exam courses and programming. She and the members of her department also provide one-on-one and small group academic and bar exam advising. Her research focuses on the interconnections of social organizations; in particular, race and class, and their intersection with education, land use, and environmental laws, systems, and institutions.
Prior to joining California Western, Dean Kiel worked at University of San Diego Law School as the Director of Academic Success and Bar Programs, and as an adjunct professor teaching Fundamentals of Bar Exam Writing from 2012-2017. Outside of legal academia, she worked as a real estate, land use, and environmental in-house attorney for a municipal utility in northern California and as an associate at law firms in Los Angeles and San Diego. She brings with her significant policy research, regulatory compliance, and transactional experience.
Kiyana is a graduate of the University of California, Berkeley School of Law, where she served as an articles editor for the Berkeley Journal of African American Law & Policy. She received her undergraduate degree from the University of California, Los Angeles in American Literature with College Honors. During law school and college, Kiyana was active in institutional, as well as student-run academic support programs, and provided advising and tutoring for struggling law and undergraduate students. Following law school, she successfully offered advising and tutoring for repeat takers of the California Bar Exam.
JD, University of California, Berkeley (Berkeley Law)
BA, University of California, Los Angeles (UCLA)
Academic Achievement Workshop
California Civil Procedure
Selected Publications
Selected Presentations
"Stress and Anxiety: How to Cope – Stuff You Will Not Find in a Book or Learn in a Classroom," Latinas in the Law of San Diego, Bonita, CA (September 2019).
"Doing More with Less: Using and Training Students to Increase Academic Support," Association of Academic Support Educators, Chicago, IL (May 2015).
"The State of Legal Education and ASP: Doing More with Less," West Coast Consortium of Academic Support Professionals, Seattle University School of Law, Seattle, WA (March 2015).
"Why Diverse Students Should Enter the Legal Profession," Bar Association of San Francisco Destination Law School, University of California Davis School of Law, Davis, CA (March 2010).
"Pipeline Initiative Overview," University of the Pacific McGeorge School of Law Alumni Association Board of Directors Meeting, Sacramento, CA (February 2010).
"How does the Current Landscape of Pipeline Programs Look?" Symposium on Initiating and Implementing Diversity Pipeline Programs, UC Irvine School of Law and CaliforniaALL, Irvine, CA (February 2010).
Testimony, Shaping the Future of the Legal Profession: Improving Pathways and Increasing Diversity, California State Senate Judiciary Committee, Sacramento, CA (April 2009).
"Welcome," "Mission and Impact: Current Outcomes, Future Goals, and Necessary Steps to Achieve Goals," and "How to Effectively Market/Promote Pipeline Work," University of the Pacific Pipeline Summit, Stockton, CA (February 2009).
"Pipeline Report," University of the Pacific Council of Deans, Sacramento, CA (October 2008).
"The Necessity of Diversity Recruiting," UC Berkeley Graduate Assembly, Berkeley, CA (Spring 2005).
"Transferring to the UC System," UC Transfer Outreach Program Informational Sessions, Los Angeles, CA (Fall 2000).