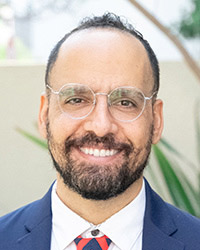 Pedro Gerson
Associate Professor of Law

Biography
Professor Gerson writes and teaches in the areas of criminal law and immigration law. Prior to joining California Western, Professor Gerson directed the Louisiana State University Immigration Clinic. The clinic provides immigration services for people in Louisiana, handling a wide range of immigration matters, from naturalization and asylum petitions to removal defense. Professor Gerson focused most of the clinic's work on removal defense for people in immigration detention, including bringing federal cases for clients in prolonged detention. Before joining the LSU Law Center faculty, Gerson served as an immigration staff attorney at The Bronx Defenders in New York City, a public defender nonprofit.
Professor Gerson previously held several positions in Mexico City, including as a researcher and project manager at the Instituto Mexicano para la Competitividad (IMCO), a think tank. He also worked in government, in the National Digital Strategy Unit of the Office of the President of Mexico. While in Mexico, Gerson was an adjunct professor in the economics and law departments at Instituto Tecnológico Autónomo de México and Universidad Iberoamericana.
Professor Gerson is a regular contributor to diverse media outlets in both Mexico and the U.S., such as Slate and Animal Político.
BA, University of Pennsylvania
MPP, University of Chicago
JD, University of Chicago
Articles:
Embracing Crimmigration to Curtail Immigration Detention, Forthcoming in Vol. 12,

UC Irvine Law Review

(2022).
Crooked Politicians: Elusive Criminal Punishments and Paths to Accountability, Forthcoming in Vol. 54: Issue 4,

Loyola of Los Angeles Law Review

(2021)
Immigration Detention as an Obstacle to Decarceration, Forthcoming in Vol. 58: Issue 3,

San Diego Law Review

(2021).
Return of the King: Corruption Backsliding in America, Vol. 3: Issue 4,

International Comparative, Policy & Ethics Law Review

(2020).
La Trampa de la Corrupción en México, 15-3

Foreign Affairs Latinoamérica

20 (2015). ("Mexico's Corruption Trap").
Book Chapter:
Book Chapter: Entre la espada y la pared: Posibilidades migratorias para las y los menores en Estados Unidos, Forthcoming in

El Acceso A La Justicia Para Niñas, Niños, y Adolescentes En Contextos de Movilidad Internacional,

Suprema Corte de Justicia de la Nación (Nicolás Espejo Yaksic ed., 2021). ("Between a rock and a hard place: Migration possibilities for minors in the United States" in "Access to Justice for children and teenagers in international mobility contexts")