Negotiation Team Wins 2nd National Championship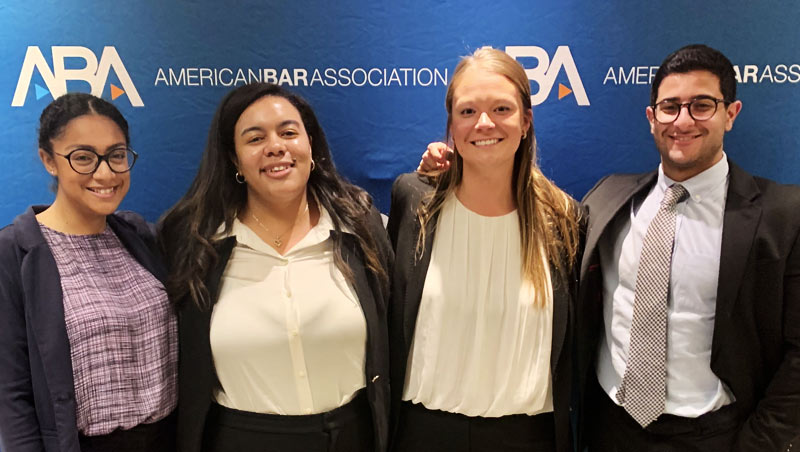 Cal Western Students Win 2nd ABA Negotiation National Championship in three years
"An almost unthinkable feat" is how Competitive Advocacy Program Director Paul Parisi describes this year's 2023 ABA Negotiation National Championship win, the second win in only three years. 149 teams from across the U.S. competed February 4-5, but Alexandria Loveless '23 and Sara Berry '23 earned the title and returned to California Western victorious.
The two champions attribute their success to the dedication, time, and practice with their team, which also included alternates Arya Sadighian '23 and Susanna Gonzales-McCaulley '23, along with coaches Francis Carlota (2021 National Champion himself), Michelle Kellogg, and Dan Rawlins.
The team members note that consistent collaboration is key to success. According to Sadighian: "We've been practicing the same way with each other for a couple of years now. We understand the way we [all] think because we all negotiate the same way at this point ... We bounce off of one another." Berry adds: "Thankfully, we have a really great team that works really, really well together and a lot of alumni who take the time out of their evenings to help us out."
"I'm so thankful for [our team]. They were able to make sure our heads were on straight and we knew what we were doing" said Loveless.
The team had about two weeks to prepare their fact pattern for Regionals, which was held virtually in November. They practiced together 2-4 times a week for four hours, and sometimes more. The students had many sparring partners because of the number of alums and coaches willing to dedicate their time to training the negotiation team. The time, dedication, and teamwork fostered allowed the students to adapt to each other's communication styles. They mastered the fact patterns, practiced their poise, and took the top place at Regionals, advancing to Nationals – despite a delay from another team.
"[At that point] it was exhilarating to know that my team members had made it that far in the competition, and they could go even further," said Gonzales-McCalley
Berry, Loveless, Sadighian, and Gonzales-McCaulley took a much-needed winter break and returned to campus eagerly awaiting the fact patterns for finals. Rather than the typical 6 weeks, a mere ten days before the National Competition, the materials came in and the team got to work. Because of their rigorous practice schedule and aptitude working as a team, the delay was almost advantageous for the California Western team. They amped up the practicing and traveled to Chicago, confident in their preparation.
Round after round, the team advanced until at the end of day two, Loveless and Berry faced the team from New England Law in Boston. As the judges gave their comments, tensions were high.
The ABA competition wasted no time in announcing the winners. Without pause for affect or any extra flourish, California Western was named the 2023 ABA Negotiation National Champions. Coach Carlota fell to his knees as Coach Kellogg knocked over a can of Coke. Loveless said, "My jaw literally just dropped, and I remember staring at [Sara] and my mind went blank." They took a moment to compose themselves and congratulate the team from Boston. "I think for me, it really didn't hit that we had won all those rounds and won it all until we sat on the plane … I'm on a physical plane. This isn't a dream. It happened" said Berry.
For Sadighian, the victory came full circle: "It was just so surreal. My first year [at California Western] Francis, our coach, won the National Championship. I always thought 'what if it ever happened again' and for it to happen two years later, it's kind of cool."