---
Sean M. Scott  joined the California Western School of Law as dean and president in 2020.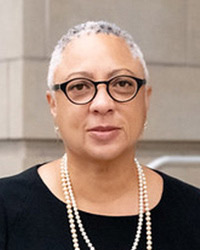 Since taking the helm, Dean Scott has charted a new strategic vision in collaboration with faculty, staff, students, the Board of Trustees, and extended stakeholders. The result is a modernized institution with a deep commitment to diversity, equity, and inclusion.
In June 2022, Dean Scott stewarded the largest gift in California Western history. The $3M funds a series of initiatives to diversify the profession, create an intellectual hub where critical conversations about justice occur, and bring to the forefront the experiences of those who have been marginalized. The donation followed the establishment of three new scholarship funds and a 93% increase in annual fund donations.
Dean Scott has also diversified the school's leadership and policies, hiring California Western's first Chief Diversity Officer and guiding the adoption of a new unitary tenure track policy that ensures equitable pathways for all full-time faculty.
Other developments during Dean Scott's tenure include restructuring California Western's Skills Training for Ethical Practice and Professional Satisfaction (STEPPS) program, improving admissions applications and student quality through new digital strategies, and increasing the number of faculty publications within top legal journals.
Dean Scott's academic interests include legal education, contracts, and disability rights. Her most recent article, Contractual Incapacity and the Americans with Disabilities Act, was published in the Dickinson Law Review and has been recognized by JOTWELL as one of the best works of recent scholarship in the areas of both contracts and elder law.
She currently serves on the Board of Governors of the Society of American Law Teachers (SALT) and is a past member of the Board of Directors of the California Women's Law Center.  Dean Scott frequently appears in the media on the topic of legal education and the diversification of the legal academy.
Prior to joining California Western, Dean Scott was senior associate dean and associate dean for faculty at Loyola Marymount Law, where she expanded legal education through a variety of innovative programs including a Master of Science in Legal Studies, the Cybersecurity and Data Privacy Law program, and the Fashion Law Project.   
Her innovative approach extended to the classroom as well, resulting in numerous honors, including the Student Bar Association's prestigious Excellence in Teaching Award and the Black Law Students Association's Distinguished Faculty Award.   
Before joining academia, she was an associate in the Los Angeles office of Manatt, Phelps & Phillips, LLP. She earned her Juris Doctor from New York University School of Law and her Bachelor of Arts from Smith College.