Whether you're considering applying to law school, a current California Western student, one of our distinguished alumni, or an employer seeking to hire practice-ready candidates, the Career and Professional Development Office (CPDO) is always here to help.
By the Data
California Western students go on to pursue a variety of legal careers upon graduation.
Where our alumni work
Law firms

57%

Government

14%

Business

14%

Public interest

10%

Judicial clerkships

3%

Academia

2%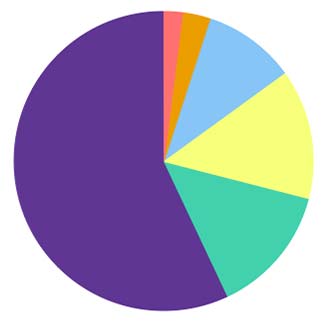 Students
As a California Western student, you have access to career advisors, resume and cover letter reviews, workshops, career fairs and more.
Explore the options below
What students are saying

Celeste Tucker, '22
Law student Intern, The National Labor Relations Board for the Office of the Executive Secretary
"With the help of CPDO, I was able to land an internship for the summer with NLRB, an agency that has been on my radar since undergraduate school. I was honored to have been selected and enjoyed my time there."

James Fendt, '22
Summer law clerk, Gomez Trial Attorneys
"I owe my success in landing the Summer Clerk position at Gomez Trial Attorneys to staying in contact with CPDO. Over the last year, they helped me refine my resume and showcase my prior work experience as a brewer and in the cannabis industry."

Jason Jacobs, '19
Production Safety Technical Writer at Pro Unlimited Contracted to Netflix
"Law school helped me develop the research, writing, and analytical skills needed both to land this job and to succeed in it. CPDO taught me to look beyond traditional lawyer roles for ways that I can use those skills. If not for CPDO's advice on J.D.-preferred jobs, I would not be doing what I am doing now."
Alumni
The California Western experience lasts a lifetime. You can still access job search resources through CPDO, including career advising after graduation.
Are you a CWSL graduate looking to give back? Learn how you can give your time and talent to current students and recent graduates through our Alumni Volunteer Program.
What alumni are saying

Paul Alaimo, '14 and Hilary Boyer, '09
Alaimo & Boyer APC
"I've always thought the CPDO is the single most valuable resource at CWSL. From helping me obtain numerous positions during law school including the internship that ultimately connected Hilary and I, to supporting our business through ALI when we were getting off the ground, to now quickly connecting us with strong applicants when we're hiring. I've always felt that your office is really willing to go above and beyond to support students and graduates."
Employers
Are you looking for practice-ready attorneys? Is your law firm, agency, or organization interested in hiring a law clerk? We are glad to help. Advertise your job opportunity here.
What employers are saying
Jessica Gross, '17
Former Associate at Sheppard Mullin
"We have been consistently impressed with our law clerks from California Western. Their work product is on par with young associates, which makes them a profitable asset to our firm and our clients."
Career and Professional Development Office
The Career and Professional Development Office offers a wide variety of resources designed to help you identify and achieve your career goals. Whether you are conducting your first summer job search, searching for a career position, or considering an alternative career, our goal is to assist you in maximizing your efforts and equipping you with skills, tools, and tips to ensure that you are as competitive as possible in the legal job market.
If you require assistance or have questions about the resources available to you, please contact a member of our staff.
Contact Us
Monday - Friday: 8:30 a.m. – 5 p.m.

350 Cedar St., 2nd floor,
San Diego, CA 92101