When pursuing higher education, we know cost is a major part of the decision making process. This page contains a breakdown of tuition and fees while attending California Western.
---
2023-2024 Academic Year - JD Program
California Western operates on a trimester system. Each academic year is made up of three trimesters. While summer trimesters are optional, there are exceptions. Spring enrollees are required to enroll in classes for four consecutive trimesters (spring, summer, fall and spring). Students must complete 90 units to graduate and may be subject to additional requirements.
Full-time Student (12 – 17 units per trimester)
Tuition cost: $30,140 per trimester
Part-time Student (6 – 11 units per trimester)
Tuition cost: $22,540 per trimester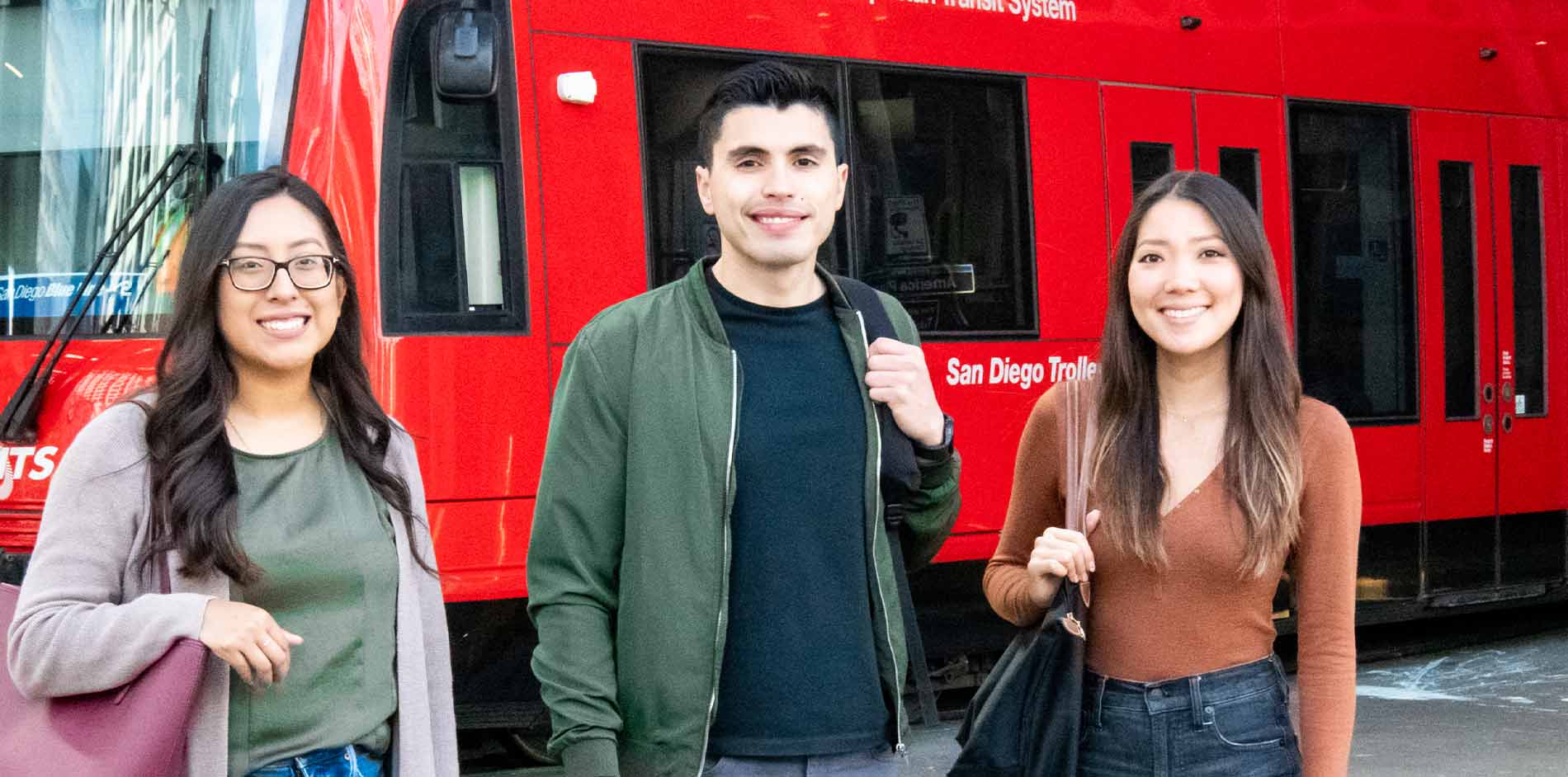 ---
California Western School of Law Cost of Attendance, 2023-24
| JD Students | Full-time enrollment (12-17 units per trimester, 8-month academic year) | Part-time enrollment (6-11 units per trimester, 8-month academic year) |
| --- | --- | --- |
| Tuition[1] | $60,280 | $45,080 |
| Activity Fee | $150 | $150 |
| Books | $1,580 | $1,580 |
| Supplies | $150 | $150 |
| Housing & Food [2] | $20,230 | $20,230 |
| Transportation | $3,808 | $3,808 |
| Miscellaneous (incl. loan fees)[3] | $4,630 | $4,630 |
| TOTAL (8-month academic year) | $90,920 | $75,628 |
[1] If a student takes 1-5 units per term, tuition will be charged at $2,740 per unit. See the Business Offices' policies and procedures for per-unit tuition details. Note that 1-5 units is less than half-time attendance, which does not qualify for federal student loans.
[2] Applies to students not living with parents or relatives. Students living with parents or relatives have a Housing & Food budget of $5,500 per 8-month academic year. Students who receive military housing assistance or who live on a military base will be assigned a Housing & Food budget of $3,400 (Food only).
[3] Miscellaneous assumes student applies for and is awarded a Federal Graduate PLUS Loan. Without a Graduate PLUS and its associated loan fees, the Miscellaneous budget is reduced by $1,752.
---
Cost of Attendance Increase
Cost of Attendance Increase Form
A student's Cost of Attendance is tied to a period of enrollment (generally a two-trimester academic year). Each school must calculate a Cost of Attendance for each of its programs. California Western's Cost of Attendance includes a generous living expense allowance, sufficient to cover educational costs for most of our students. We strongly urge students to limit borrowing to the amount of the standard Cost of Attendance or less.
During a given period of enrollment (usually a two-trimester academic year), a student is not allowed to receive a total amount of student aid (including scholarships, grants, federal student loans, private student loans, and Federal Work-Study) that exceeds that student's Cost of Attendance.
The Cost of Attendance includes the student's tuition and fees as charged by the school, as well as allowances for books, supplies, and living expenses such as rent, food, utilities, transportation, and an allowance for miscellaneous personal expenses.
In some cases, a student may incur allowable education expenses that are greater than the amounts included in the standard budget. In these cases, students can request for a cost of attendance increase.
At its discretion, a school's financial aid office may allow students to request an adjustment based on their documented actual expenses.
If approved, such an adjustment will result in additional eligibility for federal student aid, usually in the form of Federal Graduate PLUS loans.
Some allowable costs
Unreimbursed medical expenses, including prescriptions.
Licensed daycare (does not include private school tuition).
Auto repair costs other than routine maintenance.
Additional gasoline costs if a student lives more than 20 miles from school.
Airfare or other round trip travel costs, if needed to travel to an out-of-town internship or to attend approved classes at an out-of-town institution.
Computer purchase (not to exceed $1500, one time only.)
Other allowable costs that are determined by the Financial Aid Office to be directly related to a student's education.
CASH AND THIRD-PARTY TRANSACTIONS WILL NOT BE CONSIDERED. The Financial Aid Office will only accept documented purchases made with a credit card, debit card, check, or other transaction types which show the identity of the purchaser, the identity of the seller, and the date and amount of the purchase. Purchases made by another person and then reimbursed by the student will not be accepted.
The Financial Aid Office may limit the amount of a student's increase for any reason. The department must decline an increase if it is determined the cost was not incurred during the current period of enrollment or if it is not an allowable education-related expense.
Some unallowable costs
Not all costs are allowed under a "Cost of Attendance" increase. The following is a list of some excluded costs:
Auto purchase or payments.
Credit card or other consumer debt payments.
Moving expenses and security deposits.
Costs incurred outside of the current academic year, including costs incurred before matriculation that do not directly relate to the current academic year or after the final day of exams for the student's final term.
Costs incurred by a family member or other person, including a spouse or roommate's portion of the rent, mortgage, or daycare.
Child support and other childcare expenses (other than daycare).
Legal fees, bail, traffic tickets, parking tickets, or fines.
Veterinary costs, unless for a service animal.
Luxury items, such as premium cable channels, food costs in excess of the standard allowance, or other similar costs unless required for a specific education-related reason.
While most budget increases are done after a student has already incurred an expense, we do encourage students to submit a pre-approval if they know about an anticipated budget increase beforehand. A student is still required to submit proof of the pre-approved payment, during the current award period, to receive the budget adjustment and extra student aid.
Most budget increases result in eligibility for additional Graduate PLUS. As a result, a student may have to undergo an additional credit check. If an endorser is needed to qualify for Graduate PLUS, the student will have to obtain an additional endorser addendum.
Students should not rely on requested funds until the Business Office disburses the funds. Any expenditures or financial decisions made prior to disbursement are the student's responsibility and are at the student's own risk.
Bar exam budget increase
Students who are graduating in Fall or Spring can expect to pay the direct costs of admission to the bar during their final trimester. Recently the regulations governing this process have changed and now require that schools include these bar costs in the standard Cost of Attendance for students who incur these costs during (not after) a period of enrollment. Note, these direct costs cannot be included for students graduating in the Summer trimester.