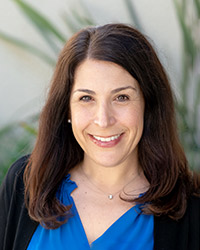 Dana Sisitsky
Associate Clinical Professor
Executive Director
Community Law Project Clinic

Community Law Project
Faculty

Biography
Dana Sisitsky is a clinical professor and serves as the executive director of California Western's Community Law Project (CLP). Professor Sisitsky joined the Community Law Project in 2010. Under her direction, CLP has evolved from a small one site clinical project to a structured and robust clinical program of CWSL. Professor Sisitsky is passionate about working with the underserved in the community and guiding students on their paths to become effective advocates and fighters for justice.
Prior to joining CLP, Professor Sisitsky worked as a legal aid attorney for over ten years, as a project director and staff attorney at Greater Boston Legal Services in Boston, Massachusetts and staff attorney at Merrimack Valley Legal Services. She served as an advocate and litigated on behalf of low-income clients, primarily victims of domestic violence. In addition, she managed the hospital project, a federally funded collaborative with five Boston-area hospitals that provided medical, legal and social services to victims of domestic violence.
Professor Sisitsky was awarded as a Top Attorney in the Academic Category in 2013 with the San Diego Source. Due in part to her leadership, CLP was awarded California Nonprofit of the Year for Assembly District 78.
Professor Sisitsky graduated from the University of California at Berkeley and earned her law degree from New York University School of Law. She holds licenses to practice law in California, Massachusetts, and New York.
JD, New York University School of Law
BA, University of California, Berkeley
Community Law Project Academic Component