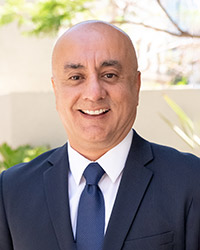 Jorge García
Assistant Dean of Admissions
Financial Aid and Campus Diversity

Biography
Jorge Garcia joined California Western School of Law in July 2021 as Assistant Dean of Admissions, Financial Aid & Campus Diversity. Jorge graduated from UC San Diego with a degree in economics and subsequently earned an MBA at CSU San Marcos. Dean Garcia has 18 years of law school admissions experience as well as 29 years administering financial aid to undergraduate and law school students. Prior to joining California Western School of Law, Dean Garcia served as Director and Asst. Dean of Admissions, Financial Aid and Diversity Initiatives at the University of San Diego School of Law.
Included in Jorge's responsibilities at California Western School of Law are leading the marketing, recruitment and admission efforts; the awarding of scholarships to the entering class; providing leadership to the Financial Aid Office; and leading the Law School in its diversity, equity and inclusion strategy and efforts.
Dean Garcia has presented at regional and national conferences on several topics including financing a legal education, diversity in legal education and on supporting DACA/undocumented students through law school. Dean Garcia has been active with the Law School Admission Council (LSAC) on a variety of committee and work groups including Services and Programs; Newcomers Planning Work Group; Emerging Markets and Innovation Committee; Finance and Budget Committee; and Audit Committee. Additionally, Dean Garcia currently serves on the Board of Trustees for the LSAC.
BA - economics, UC San Diego
MBA - California State University, San Marcos