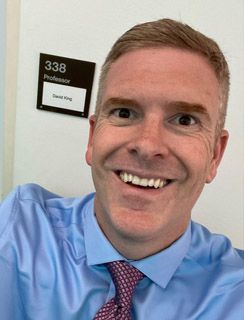 David H. King
Visiting Associate Professor of Law

Biography
David King is a Visiting Associate Professor and teaches Professional Responsibility.
Upon graduating from Loyola Law School, Professor King practiced municipal law, representing several cities throughout Los Angeles County. Professor King previously served as an Executive Committee member of the State Bar of California, Public Law Section, and served as an editor of the Public Law Journal. He also served as a chapter editor of The California Municipal Law Handbook, which is edited annually by the City Attorneys Department of the League of California Cities. Most recently, Professor King was Of Counsel with the law firm of Best Best & Krieger, LLP.
Prior to joining California Western, Professor King was a member of the faculty at his alma mater Loyola Law School in Los Angeles, where he taught Legal Writing, Legal Drafting and Ethical Lawyering. He also taught Basic Bar Studies at Western State College of Law as an adjunct clinical professor.
• B.A., UCLA
• J.D., Loyola Law School
• Professional Responsibility
Note, Zhu and Chen Revisited: An Update on the ECJ's Jurisprudence on the Derivative Rights of Third-Party Nationals, 42 LOY. L.A. INT. & COMP. L. REV. 357 (2019).
Article, Squirtles and Pidgeys and Eevees, Oh My!: Pokémon Go, Augmented Reality Games and Public Property, 39:3 PUB. L.J. 16 (Summer 2016).
Article, When Government Cover-ups are a Good Thing: Preventing Exposure of Your Agency's Decisionmaking Via the Deliberative Process Privilege, 37:3 PUB. L.J. 33 (Summer 2014).
Article, The Workplace Violence Safety Act: Protecting Your Agency's Most Valuable Resource, 36:2 PUB. L.J. 19 (Spring 2013).
Note, Chen v. Secretary of State: Expanding the Residency Rights of Non-Nationals in the European Community, 29 LOY. L.A. INT. & COMP. L. REV. 291 (2007).