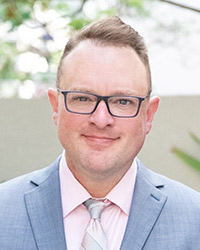 Joshua Aaron Jones
Legal Writing Professor

Biography
Professor Jones graduated from the University of Montevallo, cum laude, with a bachelors in instrumental music education. At University of New Hampshire Franklin Pierce School of Law, he earned a joint JD and Master of Education Law. He served as a teaching assistant for first year legal research and writing, as well as for Administrative Process, and he also was as a research assistant to Professor Sarah Redfield, then director of the Education Law Institute. After six years of practice at a Florida mass tort plaintiffs law firm, Jones returned to the academy as the Downey Brand Fellow for Public Service and Leadership at University of the Pacific McGeorge School of Law.
After completing a Master of Laws at McGeorge, focused on government and public policy, Jones returned to private practice in Pensacola, Florida, where he opened a solo law office. He was called upon often as a key lawyer for LGBTQ+ issues in northwest Florida, and he collaborated on cases and projects with the ACLU of Florida and Equality Florida. His clients have included students, teachers, families, small businesses, filmmakers, and musicians. Jones continues promoting the collaborative process dispute resolution method, and during practice, he was the Vice President for the Florida Academy of Collaborative Professionals and a founder and president of West Florida Collaborative Professionals.
In addition to his academic scholarship, Jones has published short stories and was a two-time finalist for the Florida Writing Association's Royal Palm Literary Awards for short fiction. He also served as a Royal Palm Literary Awards judge, in other categories, for three years. His fiction has appeared in Chelsea Station Magazine, Hedgehogs & Foxes, The Emerald Coast Review, The Florida Writer, and FWA Collection #6. Jones has also produced documentary films and reality television programs. Jones often helps others as an editor and writing coach.
For 16 years, and during practice and other projects, Jones served as an adjunct professor at Virginia College, Pensacola State College, and the University of West Florida. His classes have included family law, Constitutional law, evidence, trusts and estates, real estate law, legal writing for paralegals, and law office technology. He joined California Western School of Law in 2021 and teaches 1L and upper-level writing courses. Before joining CWSL, Jones was a Visiting Assistant Clinical Professor at Indiana University Robert H. McKinney School of Law.
Jones is a member of the California Bar and the Florida Bar.
LL.M - Government & Public Policy, University of the Pacific McGeorge School of Law
JD, University of New Hampshire Franklin Pierce School of Law
M. Education Law, University of New Hampshire Franklin Pierce School of Law
B. Music Education, University of Montevallo
Legal Research and Writing
Selected Publications
Joshua Aaron Jones, Building a Community of Inquiry Through Interactive Materials: The Interactive Syllabus, 245 Nova L. R. 309 (2021).
Joshua Aaron Jones, Title IX's Substantive Equity Mandate for Transgender Persons in American Law Schools, 44.3 N.Y.U Rev. L. & Soc. Change (Spring 2020).
Joshua Aaron Jones, Florida Family Law Bounds of Advocacy: A Mandate for Collaborative Practice?, 43 Nova L. R. 1 (2019).
Joshua Aaron Jones, Section 504 of the Rehabilitation Act of 1973: A Doublee-Edged Sword for the Protection of Students with Gender Identity Disorder, 25:2 Wisc. J. L. Gender & Soc'y 353 (2010).